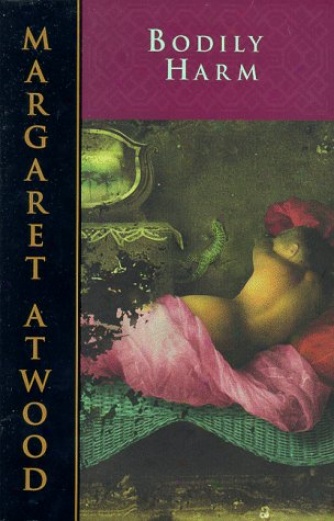 Bodily Harm
ISBN: 0099740818
Number of Pages : 301
Genre: fiction, contemporary classic
Published: 1996
Bestsellers: the blind assassin, up in the tree
Synopsis: [From flipkart]
Rennie Wilford, a young jounalist running from her life, takes an assignment to a Caribbean island and tumbles into a world where no one is what they seem. When the burnt-out Yankee Paul (does he smuggle dope or hustle for the CIA?) offers her a no-hooks, no strings affair, she is caught up in a lethal web of corruption.
Nightflier speaks:
I have been wanting to read an Atwood novel for months, and finally through some chance unavailability of other books in my reading list, 'bodily harm' came my way.
It had been ages since I read a sensitive thriller, with the flavors of the carribean. The plot is pretty straightforward, Rennie, a lifestyle journalist who is going through a life crisis unlike anyone (cancer) decides to get away from her defined world and takes a vacation of sorts on an island near Barbados. She gets entangled in a massive local event and her life changes forever.
Throughout the book, there is a surrealism, as if walking through Rennie's dreams. Rennie after having struggled for her body from the cancer, goes a metamorphosis which liberates her. Opens her to a reality from an altogether different plane.
I got so engrossed in Rennie that I could literally feel the pangs she felt, of not knowing herself anymore, of her condition, of her relationships, of her growing up.
This is my first Atwood, but I can say that she deals with emotions like a charm. She digs so deep that you feel what the character must be feeling. Also there is a haunting sense to all the characters. We see them through Rennie's eyes (who is undergoing a massive identity crisis because of the disease). Hence the characters remain a fling of sorts, we often meet at foreign places and later forget about.
There is also a touch of feminism in the book. All the females are starkly independent, can fend for themselves despite being vulnerable. She portrays this so beautifully and sensitively, that the book doesnt feel like badgering you with women issues. That I feel is a welcome kind of writing.
Also another sensitive issue of politics and government is handled in the book. It is not detailed, but considering it is through the eyes of a traveler, the treatment is justified.
All in all, a different and welcome read. Took me time to pick up pace, but it did grow on me later.
Rating : 4/5
Price : 350 (flipkart)