About 3 months back I promised myself NOT to buy any new books. and that's the same time I discovered free kindle books. 3500 ( I will be referring to this book by just this number in the post ) was chance discovery which was made free for promotional reasons and I am so glad I read this.
Benjamin, a nine-year-old autistic boy with a love of Disney, was taking his first trip to Walt Disney World. The last thing his parents expected was to see him come alive.
What followed was a remarkable tale of inspiration, heartbreak, dedication and joy as Benjamin's family relocated from Seattle to Orlando in order to capture that magic and put it to practical use. Amidst the daily challenges of life for an autistic child, Benjamin's passion for one particular theme park attraction would lead his family on a breathtaking journey of hope and discovery.
Nimue Says : The book is written by Ben's Dad and in the beginning itself he states that this is how he looks at life with Ben, what he felt and remembers. That his wife's version might agree or not to this one , makes the tale so much real and true to the words.
This was the first time I read about autistic child and the sacrifices that such a child demands from the parents. I would never imagine moving to a city only for your child's love of the Snow White ride in Disneyland. To hope and have faith that this ride alone can bring so much learning and normalcy to your son's life that you leave everything and your girlfriend behind. But i guess , that what any parent would do.
The tale just goes on from one year to next , one achievement to another , one sick day to many such days and Ben's recovery. Ron writes from his heart and relies on his memory like a guided tour into Ben's life.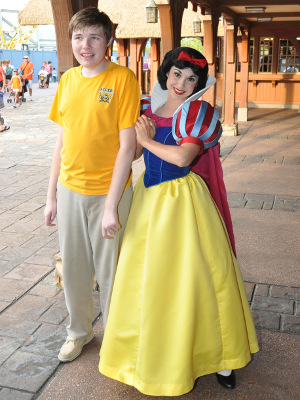 Ben's obsession with the ride , Ron's track of the count of the rides Ben takes every time he goes to Disneyland ( 3 in a row is minimum for him most time) , the staff's affection and help to make every landmark ride special for Ben and his meeting with snow white.
I felt that I was indeed reading a fairy tale based in present times.
The book made me smile , made me cry a bit too. It made me feel good and made me feel so humble and thankful.
One of the best reads in recent months.
And I know I so much needed this blessing.